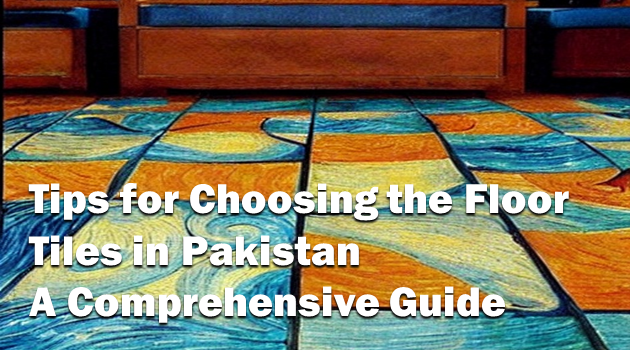 Tips for Choosing the Floor Tiles in Pakistan: "A Comprehensive Guide"
Floor tiles are a popular choice for both residential and commercial spaces due to their durability, versatility, and ease of maintenance. They come in a variety of materials, sizes, and styles, making it easy to find the perfect match for any design scheme.
When it comes to choosing floor tiles for your home in Pakistan, there are a few things to consider. As an expert in the field, I've put together some tips to help make your decision a little bit easier.
First and foremost, think about the room you're tiling. Different rooms require different types of tiles. For example, in a bathroom, you'll want to choose a tile that is slip-resistant. In a kitchen, you'll want to choose a tile that is easy to clean and maintain. In a living room, you may want to choose a tile that is more decorative. So, think about the function of the room and choose a tile that suits that purpose.
Next, consider the size of the room. Larger rooms can handle bigger tiles, while smaller rooms may look better with smaller tiles. Also, if you have a small room, you can use a light-colored tile to make it appear larger. And in a bigger room, you can use a darker tile to make it feel more cozy.
Thirdly, think about the style of the room. If you have a modern home, you may want to choose a more contemporary tile. If you have a more traditional home, you may want to choose a more classic tile.
Finally, think about the budget. Tiles can be expensive, so it's important to choose a tile that fits within your budget. Remember, you don't have to break the bank to get a great tile. There are many affordable options available that look just as great as more expensive tiles.
There is also a wide range of options when it comes to style and design. Floor tiles can be made from a variety of materials, including ceramic, porcelain, and natural stone. They come in a variety of sizes, shapes, and colors, so you can choose a look that matches your personal style.
Want to know the ins and outs of this topic? Join me as we dive deeper.
One of the most popular materials for floor tiles is ceramic. Ceramic tiles are made from clay that has been fired in a kiln at high temperatures. They are resistant to water, stains, and scratches, making them a practical choice for kitchens and bathrooms. Ceramic tiles also come in a range of colors, patterns, and finishes, allowing for endless design options.
Another popular choice is porcelain tiles. These tiles are made from a denser type of clay that is fired at even higher temperatures, making them even more durable and resistant to wear and tear. Porcelain tiles are also resistant to moisture, making them a good choice for outdoor spaces or areas with high humidity.
Natural stone tiles, such as marble, granite, and travertine, are also a popular choice for flooring. These tiles are made from natural materials that are mined from the earth and cut into thin slabs. Natural stone tiles add a touch of luxury to any space and are known for their durability and unique patterns. However, they do require more maintenance and are more expensive than ceramic or porcelain tiles.
One of the main benefits of floor tiles is their durability. They are resistant to wear and tear, making them a long-lasting choice for high traffic areas like kitchens and living rooms. They are also resistant to water and stains, making them a practical choice for bathrooms and laundry rooms.
Floor tiles are also low maintenance and easy to clean. Simply sweep or vacuum to remove dirt and debris, and mop with a mild cleaning solution to keep them looking fresh and new. They do not require waxing or special treatments, unlike other flooring options like wood or linoleum.
However, it is important to consider the location and intended use of the tiles before making a decision. Some materials may not be suitable for outdoor use or in areas with extreme temperatures. It is also important to consider the cost of installation, as it can vary based on the complexity of the project and the type of tiles chosen.
Specifications of Floor Tiles
Material:
common materials for floor tiles include ceramic, porcelain, stone, and vinyl.
Size:
tiles can range in size from small mosaic tiles to large format tiles.
Thickness:
tiles can range in thickness from 3/8 inch to over 1 inch.
Finish:
floor tiles can come in a variety of finishes, including matte, gloss, and textured.
Color and pattern:
floor tiles are available in a wide range of colors, from neutral tones to bold, vibrant hues or have intricate patterns and designs.
Water resistance:
some tiles are more resistant to water and moisture than others, making them suitable for use in wet areas such as bathrooms and kitchens.
Durability:
floor tiles should be able to withstand wear and tear, as well as resist staining and scratching.
Slip resistance:
tiles can have a rating for slip resistance, making them suitable for use in areas with potential for water or other liquids on the floor. floor tiles should have a certain level of slip resistance to prevent accidents and falls.
Installation:
floor tiles can be installed using various methods, including adhesive, grout, or a floating system.
Maintenance:
the maintenance requirements of floor tiles will depend on the material and finish, with some requiring more frequent cleaning and sealing than others.
Certification:
tiles can be certified for use in specific locations or for meeting certain standards, such as being environmentally friendly.
Advantages of Floor Tiles
Durability:
Floor tiles are generally made from hard-wearing materials such as ceramic, porcelain, or stone, which means they can withstand heavy foot traffic and wear and tear over time.
Low maintenance:
Unlike other flooring options, such as carpets or wood, tiles do not require frequent cleaning or refinishing. They can simply be wiped down with a damp cloth or mop, making them easy to maintain.
Versatility:
There are a wide range of tile options available, including different sizes, shapes, colors, and patterns, so you can easily find a style that fits your decor and design preferences.
Water-resistant:
Many types of tiles, such as ceramic and porcelain, are resistant to water and moisture, making them suitable for use in kitchens, bathrooms, and other areas prone to spills or leaks.
Hypoallergenic:
Tiles do not harbor dust, dander, or other allergens, making them an ideal choice for people with allergies or sensitivities.
Easy to repair:
If a tile becomes damaged, it can usually be easily removed and replaced without affecting the rest of the floor.
Value:
Tile flooring is often considered a long-term investment, as it can last for many years and increase the value of a home.
Disadvantages Of Floor Tiles
Cost:
Floor tiles can be expensive, especially if you are choosing high-end materials like marble or granite.
Difficulty of installation:
Installing floor tiles can be a difficult and labor-intensive process, especially if you are working with a large area.
Grout maintenance:
The grout between tiles can be prone to staining and discoloration, and it may require regular cleaning and maintenance to keep it looking good.
Cold:
Some types of floor tiles, such as ceramic and stone, can feel cold underfoot, which can be uncomfortable in the winter months.
Slip-resistant:
Some floor tiles can be slippery, especially when wet, which can be a safety hazard in areas where there is a lot of foot traffic.
Breakability:
While durable, floor tiles can be prone to breaking or chipping if they are subjected to heavy weight or impact.
Noise:
Some floor tiles, particularly those made of ceramic or stone, can be noisy when walked on, which can be a problem in multi-family dwellings or in homes with thin floors.
In Summary:
Floor tiles are a practical and stylish choice for any space. With a wide range of materials, styles, and sizes available, it's easy to find the perfect tiles to fit any design scheme and budget.