How to add and edit firm profile and using dashboard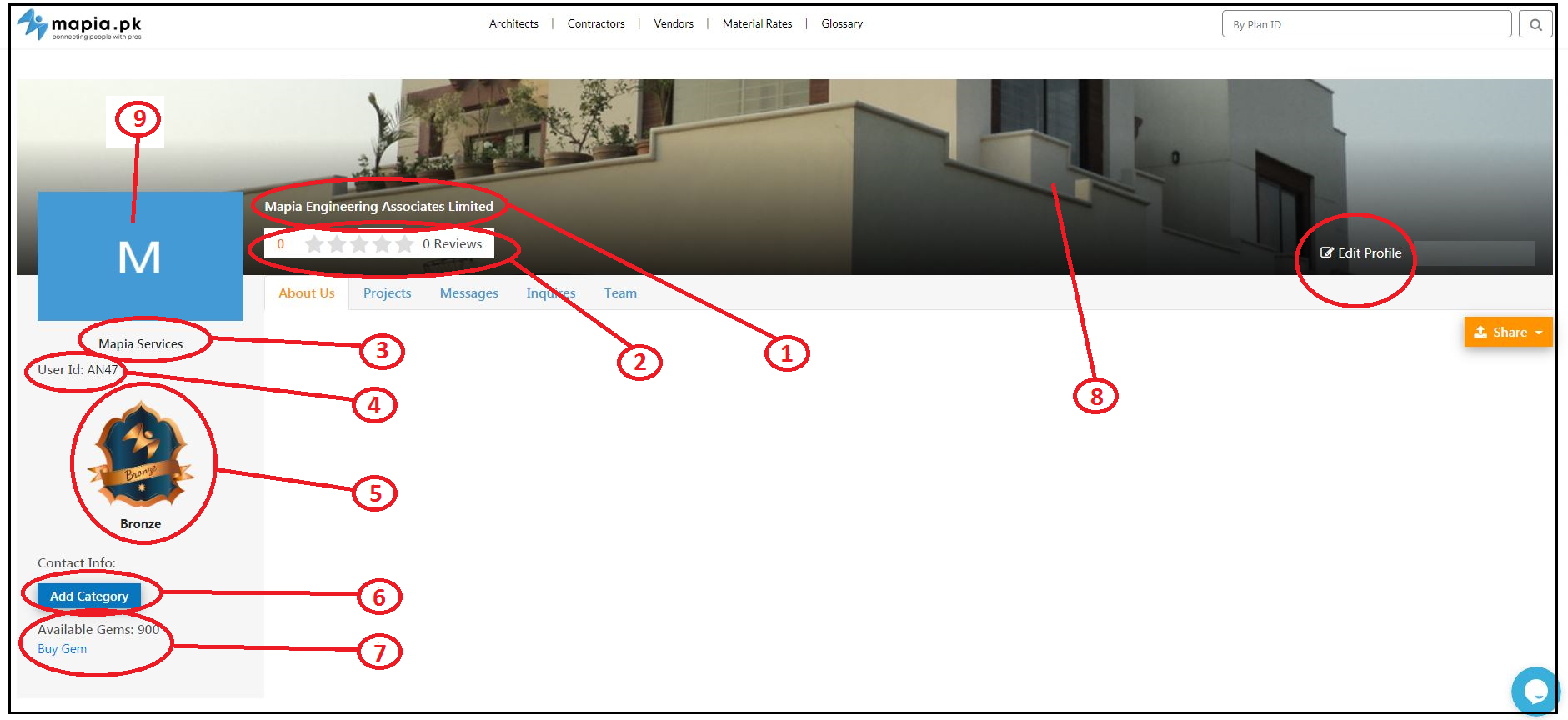 This is your main profile page that enables you to create your work office here with us. Please remember! mapia users are looking for varied professional services and you will be receiving their requests through this office only. Without creating a firm, you won't able to contact or reply any services requested through this website.
For doing so, please select the profile edit option in the large circle. Click to start adding your firm information and then creation of your firm.
Let's follow the point mentioned in the picture above.
Firm name: you will add in the profile.
Reviews and ratings: from the website users or your current or previous clients you worked with. You can share your profile page with them for your services review. The clients/customers' reviews would help and attract other people looking for your quality services.
This is the Name: you have used to create your mapia account.
Unique ID: mapia will allot this to every member Architect.

Badge:

it represents your membership status. .mapia categories professionals in three different levels. The first is Bronze that is awarded by default to all new account holders. The next is the Silver Badge, and the last one is Gold Badge. All these badges are awarded according to the criteria set forth in the "How gems are awarded to professionals" section.
Categories: they are set in accordance to your services offered to service seekers. Check all boxes or any whichever best represent your expertise you want to offer through mapia. Remember, you will only receive emails and messages for the services you select from the people looking desired service providers.
Gems: Mapia gifts 900 gems to a new account creation, which can be used during the bidding process upon service seeker inquiry. The details are available in "gems awarding and usage criteria".
Cover photo: of firm. Chose the best image to impress your profile visitors. The size of the cover picture must be 1289x235 px. Hope you are good in Photoshop.
Logo: of your firm. Impress your visitors by adding it. This will also appear in Professional listing pages, so add one at your earliest. 155x155 px size is best fit for logo.
---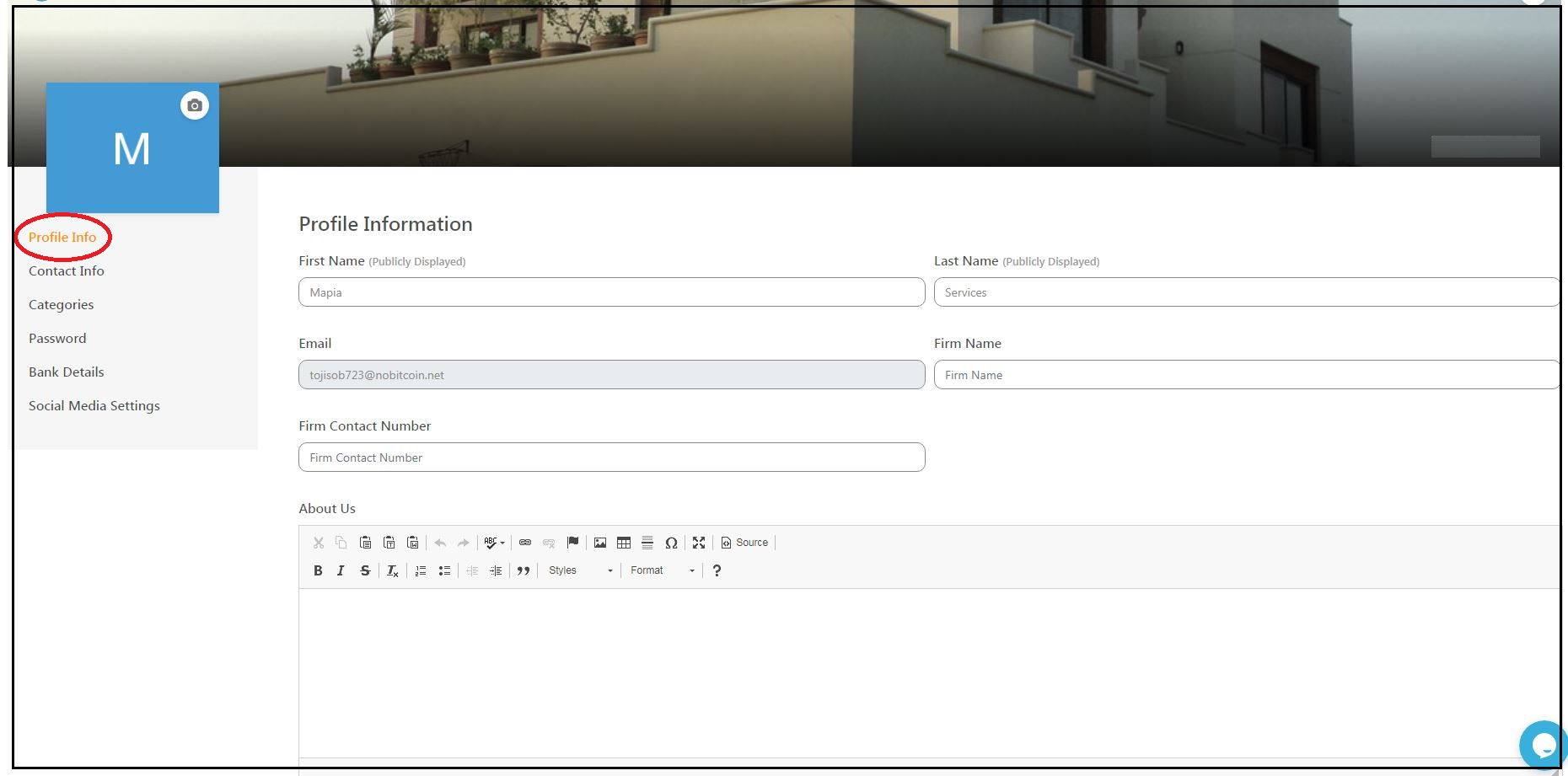 Once you click on Edit Profile, the editing page will open and you can start adding your details. Click one by one at the sections on the left and add all information you feel to share with your visitors. The accurate and additional information is always helpful.
---
After completion of your profile page, click icon at the top right corner and then click the Dashboard.
---

This is your dashboard area. All the information is gathered here for your quick reference.
Now let's talk on each of the section at left side.
---

Orders: If you are selling your floor plans through mapia, you can find all orders and sales here.
---

Reports: It shows all your sales reports of selling floor plans.
---

Service Requests: it lists all the inquiries from the service seekers in order to find suitable professionals. You can contact the enquirer from this page. The details of all the services required will be available at this page.
---

Projects: You can upload your previous best projects for the visitors of your profile page. Impress them with your top projects.
---

Team: add your team members along with their pictures. It will help service seekers to understand your team strength and expertise..
---

Withdraw Request: From this page, you can send a request to draw any amount if available from the sale of your floor plans. The money will be sent in your bank account provided by you in the profile.
---

Endorsement or Recommendation Request: This is where other mapia registered professional may request you to recommend them on their profile page for their expertise. Vice versa you can also ask the same from other professionals for endorsement and recommendation. This can be done by visiting the profile pages and hitting the endorsement or recommendation button. You must be logged-in your account while making a request.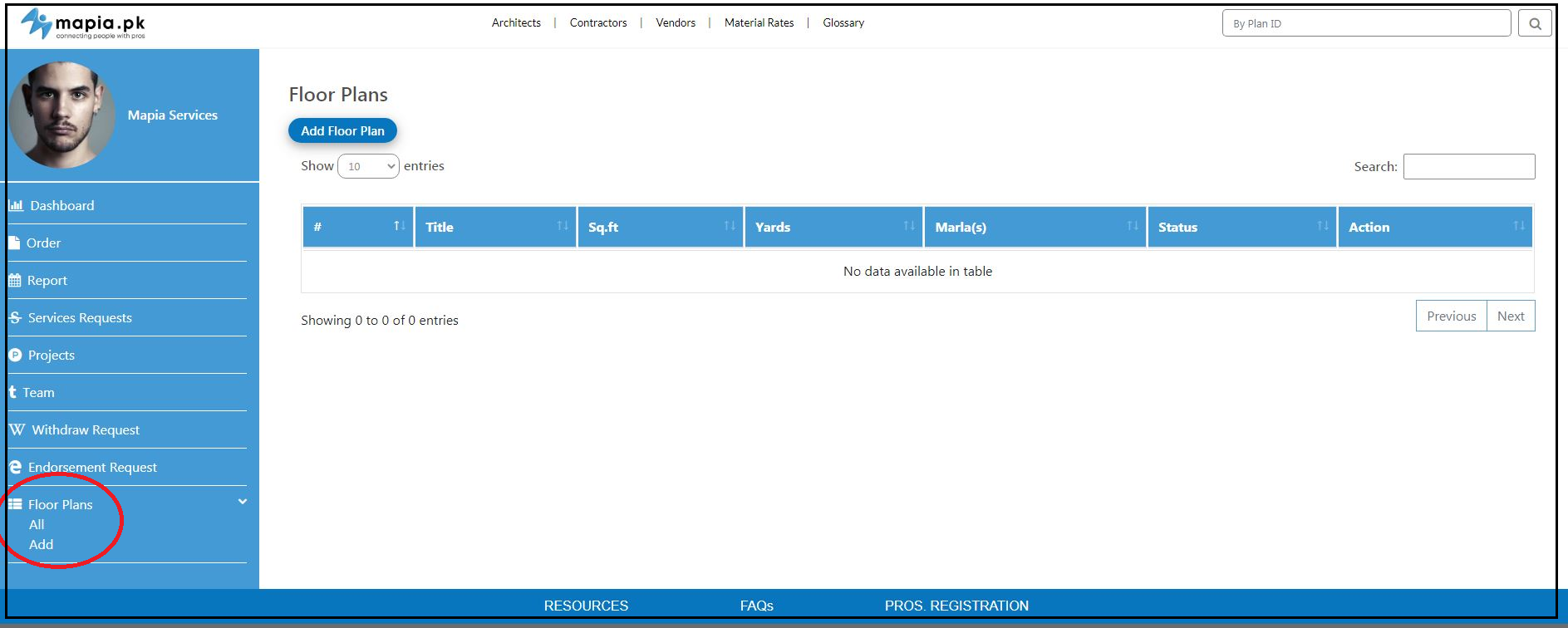 Floor Plans: it is where you can upload floor plans to publish at mapia. Please, add all the information required while uploading. Check all the requirements prior to uploading in the "Adding floor plans by Architects and Designers" guide.