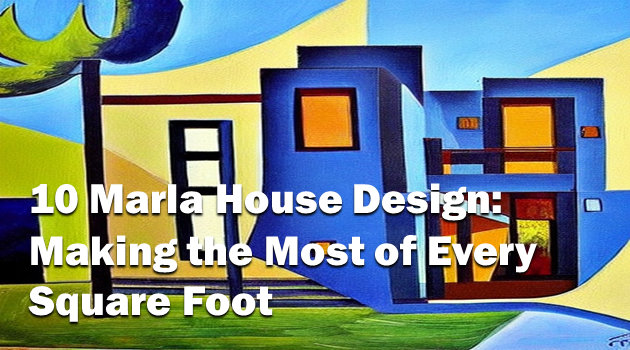 10 Marla House Design: Making the Most of Every Square Foot
A 10 Marla house map is a detailed diagram that shows the layout and features of a 2250.00 square feet plot size. These maps are commonly used by architects, builders, and homeowners to plan and visualize the layout of their homes.
Ten Marla house is a popular size for a single-family home in Pakistan and other countries in South Asia. It is roughly measuring 2600 square feet covered area including ground and first floor. When designing such a house, there are several key features to consider in order to create a comfortable and functional living space.
Let's explore the depth and breadth of this subject together and see what we can uncover.
Here are some features that you might consider incorporating into a ten Marla house design:
Open Floor Plan:
An open floor plan can help create a sense of spaciousness and flow within the house. By removing walls and creating a single, cohesive space for the kitchen, living room, and dining area, you can create a more open and airier atmosphere.
Another way of designing an open floor plan is an open concept living and dining area, with a central kitchen that connects to both spaces.
Multiple Bedrooms:
House is likely to have at least three to five bedrooms, with one being the master bedroom. The master bedroom is usually the largest and most luxurious depending on the layout, where two bedrooms at ground and three at first floor. These numbers of bedrooms provide enough space for a growing family. These bedrooms should be well-sized, with ample storage and comfortable furnishings.
Bathrooms:
House will usually have at least four full bathrooms. The master bathroom is typically larger than other baths in the house.
Living Room & TV Lounge:
The living room is a place for relaxation and entertaining, and house will typically have a large and comfortable living room. This space may include a fireplace, large windows, and comfortable seating to watch TV.
Kitchen:
The kitchen is a central hub of any home, house will typically have a spacious and well-equipped kitchen, it should have a well-designed kitchen with plenty of storage, counter space, and modern appliances.
Drawing & Dining Room:
Many 10 Marla houses will have a combine drawing and dining room, which is a space dedicated to formal dining and guest siting. This room may include a large table, cabinet, and plenty of seating.
Outdoor Space:
House design is likely to have ten feet open area at front, five feet at either side and almost five to seven feet at back of the structure which can be used for plantation, outdoor cooking and laundry.
Car Porch:
House will usually have a car porch to provide shelter and security for vehicles. A car porch is a useful feature to have in a house, providing a place to park vehicles and other equipment.
Storage Space:
Design should have plenty of storage space to keep clutter to a minimum. Consider designing built-in cabinets and closets, as well as a storage room or basement to keep larger items out of the way.
Energy Efficiency:
House should be designed with energy efficiency in mind. energy efficiency is even more important, as it can help to reduce energy costs and environmental impact. Consider incorporating features such as Energy Star-rated appliances, solar panels, and insulation at roof to improve the energy efficiency and help the environment of your house.
Natural Light:
Incorporating plenty of windows and skylights into the design can help bring in natural light, making the home feel brighter and more welcoming.
Security:
Security is an important consideration when designing a 10 Marla house. Consider incorporating security features such as a fence, gates, and surveillance cameras to keep the home safe.
Customization:
One of the benefits of designing a custom house is the ability to tailor the design to your specific needs and preferences. Consider adding features such as a home office, a media room, or a play room at upper floor to create a space that meets your unique needs.
In Suumary:
10 Marla house design should be thoughtfully planned to create a comfortable and functional living space that meets the needs of the homeowners. By incorporating a mix of practical and luxurious features, you can create a house that meets the needs of your family.